Location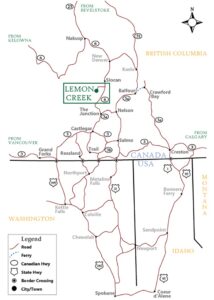 Easily accessible in all seasons, Lemon Creek Pioneer Campground is located off Hwy 6 in the Slocan Valley of British Columbia. We're just a 3.5 hour drive North of Spokane, Washington, or 8 hours if you are driving from Calgary, Alberta or Vancouver BC.
Get Directions
Castlegar
This small city (population 7,000) with a big heart is situated where the Kootenay River meets the Columbia River, in the West Kootenays of BC. It sits in a valley that is steeped in the heritage and culture of the Doukhobors, who migrated here in the early 20th century.
People come to Castlegar for the area's exciting outdoor recreation and parks. Castlegar locals love their city and their sports, producing numerous special events and tournaments throughout the year.
The West Kootenay Regional Airport in Castlegar is owned and operated by the City of Castlegar and services the West Kootenays. The Airport has regular service to both Vancouver International Airport and Calgary International Airport.
Nelson
Known as "The Queen City", and acknowledged for its impressive collection of restored heritage buildings from its glory days in a regional silver rush, Nelson is superbly rich with culture. The downtown area (Baker Street and beyond) is packed with good restaurants, cafes and coffee houses, local shops and small art galleries and theatre venues. The summer months hold weekly markets on Wednesdays and Saturdays, where locals buy and sell their organic foods and wood/pottery/metal/fabric/etc wares. A city full of culture indeed.
Lemon Creek Pioneer Campground
Box 68, Slocan BC Canada
(7680 Kennedy Road)
V0G 2C0
Call: 250-355-2547